Frequently Asked Questions
Application, ingredients, and more
Our Nail Strip/Sticker Ingredients
---
All nail strips are Chemical 5-free, non-toxic, and recommended for ages 3 years and older. Ingredients: Styrene/Isoprene Copolymer Hydrogenated Poly N-Butyl Acetate Polyacrylic Acid Ethyl Acetate Nitrocellulose Dipentaerythrityl Hexaacrylate Hydroxypropyl Methacrylate Hydronycyclohexyl Phenyl Ketone Bis-Trimethylbenzoyl Phenylphosphine Oxide
---
Nail Strip Application Instructions
---

Clean your nails, and cuticles well. Wash and dry hands and finger nails before application. Select the appropriate nail polish strip size, you can trim if needed. Trim prior to application. Pull off the clear film layer that is on the top of the strip. Peel the polish strip from the paper backing. Align the polish strip to the finger nail, and apply the sticky side to the nail with the curved edge at the base of the nail. Press and smooth the polish strip on the nail, pressing firmly. Using a nail file, clipper, or scissors trim the excess polish strip from the tip of the finger nail. Recommended: for added protection use a clear top coat over the polish strips (Sally Hansen). To remove: use nail polish remover.
---
Nail Strip Application Video
---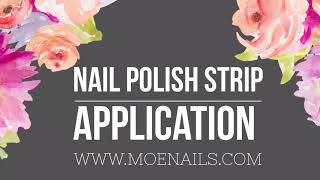 ---
Pedicure Strip Application Video
---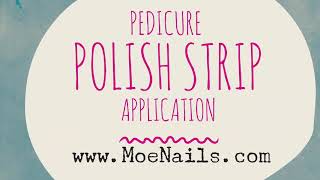 ---
Should I apply a topcoat?
---
I always recommend that you apply a quick dry clear liquid topcoat after you have applied your nail strips. I believe it's the best way to keep your new manicure looking better longer. There are no guarantees for how long your manicure will last, but a topcoat should help wear. I recommend the Sally Hansen quick dry liquid topcoat.
---
Should I avoid water after I apply my manicure?
---
It is recommended that you avoid submerging your manicure in water for several hours after application. Submerging your manicure in water too early could result in 'lifting' or loss of your manicure before it has time to fully adhere. If you must submerge your hands after application, using gloves or another barrier would be recommended.
---
Payments, Invoices, Shipping and Return Policy
---
Invoices/Payment: Invoices will be sent via Paypal, and payment is due within 24 hours of receipt. All items will be restocked after 24 hours and invoice cancelled if payment is not received. Once your payment has cleared please allow for 48-72 business hours for your order to be shipped. Shipping Policy: Buyer is responsible for the address listed in Paypal for shipping. If the order is sent to the incorrect address due to customers lack in updating their paypal account this will be at the fault of the customer. The seller is not liable for the shipping information that is provided via paypal. If there are any concerns regarding shipping address the customer is responsible for sending an email prior to shipping with the correction. We do not process or ship orders on any postal holidays, or on SUNDAYS. All orders are shipped via USPS, as flat-rate shipping or as ground shipping depending on weight. Once available, the tracking number will be emailed to the email address used on the order. Please allow up to 1-2 weeks for your product to arrive, and utilize USPS tracking services to monitor your shipments progress. You can use the USPS tracking website here: https://tools.usps.com/go/TrackConfirmAction_input ​ Any claims with the USPS for lost shipments will be made between 21-30 days after the order has shipped. Please have patience with the USPS shipping process, and start any claims or emails regarding shipment status after the 21-30 day window. ​ Please contact us if there are any questions or concerns with your shipment. Return & Exchange Policy: Merchandise must be returned in NEW unused condition within 20 days of purchase to be eligible for ANY refund. We will NOT accept refunds on any custom made, or customized products. We will NOT accept any refund or return on open/damaged/used products. We are NOT responsible for user error in applying the product (for application tips and help see our FAQ page). There will be a 40% restocking fee deducted from the product refund total on all returns/refunds. Shipping costs will not be refunded or reimbursed. The return shipping costs are the responsibility of the buyer. Return shipping costs will not be reimbursed. Before you are able to check-out you accept the Return & Exchange Policy as stated above. Contact us to arrange the return. ​ *Sample packs are NON-REFUNDABLE, all sales are final*
---
Our nail polish strip supplier
---
The nail strips we offer are very popular in Eurpoean and Asian markets. We order our nail strips from a major supplier overseas in Shanghai, China. We are very confident in the quality of our supplier as they are one of the major manufactueres in China; and have been selling nail strips to Europe and Asia for over 7 years! We try to offer many new exciting design styles, and options as frequently as possible. Make sure to check our website often. All our nail strips are chemical 5-free, non-toxic, and safe for users 3 years and up. We DO NOT sell the ink and glue nail stickers that some companies offer. We do not agree with the ingredients or product quality with that type of nail sticker. Why are our nail strips only recommended for 3 years and up? Due to the potential risk of choking with children 3 years and younger (finger sucking) we advise use for those that are 3 years and older.
---
What is the difference between all the nail strip types?
---
We have several types of nail strips on our site. All of our nail strips are applied with the 'peel & stick' method. See application video on our YouTube channel. The different styles we carry are all made from the same ingredients. The manufacturer rates each style differently in terms of how long they are intended to last: Stickers 3-5 days Vinyl 5-7 days Polish strips 7-10 days Luxe polish strips 7-14 days Of course, wear time will all depend on the habits and care of the wearer. We recommend that your nails are prepped well before your manicure, and a quick dry liquid topcoat (Sally Hansen recommended) once the manicure is applied. Due to multitudes of factors there is no guarantee how long your manicure will last. The intention of our product is to be compared to liquid nail polish's dry time, and wear.
---
How much are tumblers?
---
Tumbler pricing is based on what style tumbler is choosen. Each type has a different cost, this includes the design, and the shipping.
---
Care Instructions for drinkware/tumblers
---
Hand wash only! Avoid extreme heat. Not dishwasher or microwave safe. Do not soak. Do not leave in hot car. All tumblers are handmade, and as such may have small imperfections. Please handle with care.
---
Washing Instructions for garments/shirts
---
Washing Instructions Turn garment inside out. Machine wash cold. No bleach. No fabric softeners. Do not dry clean. Do not iron. Dry at normal dryer settings. All shirt sublimations are handmade, and as such may have small imperfections. Please handle with care.
---
---